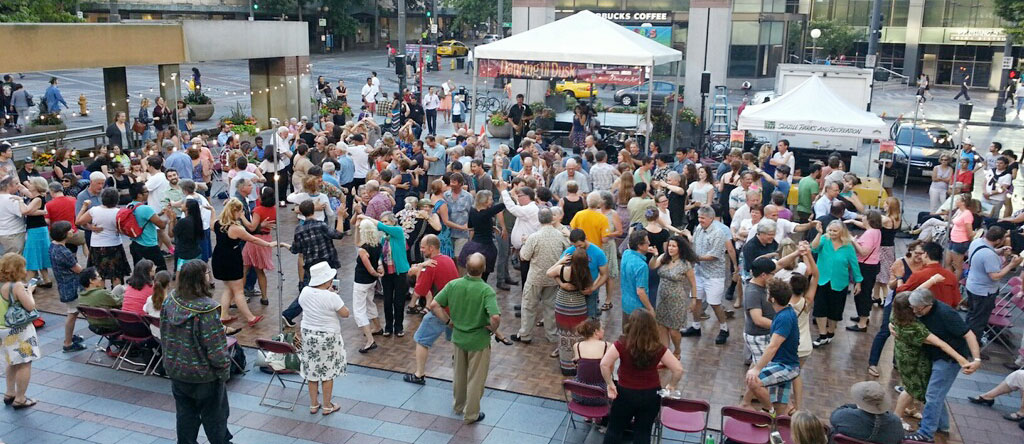 Join us for Dancing til Dusk 2017, 13 summer evenings of free music, dance lessons and dancing in downtown Seattle parks!
1st hour is a beginning dance lesson, no experience or partner required!
Rain Hotline:
206-264-5646
Tuesdays in Occidental Park
6-9:30pm
Jul 11 — Billy Joe Show | Honky Tonk/Swing
Jul 18 — Jukehouse Hounds | Rock 'n Roll Swing
Tuesdays in Westlake Park
6-9:30pm
Jul 25 — Swingin' In the Rain with Dina Blade | Variety
Aug 1 — Ranger & the 'Re-Arrangers' | Gypsy Swing
Aug 8 — Aaron Crawford | Country & Western
Aug 15 — DJ Koichi | West Coast Swing
Aug 22 — Buena Vibra | Salsa
Aug 29 — Valse Café Orchestra | Waltz and more! / a Ball Blanc; wear white!
Wednesday, Aug 23
Fundraiser | Dance at the Beach!
6-10pm
Golden Gardens Bathhouse
Seaview Place NW, Seattle
6-9pm, $20/person
Featuring Larry Unger & Audrey Knuth | Waltz and More!
Thursdays in Freeway Park
6-9:30pm
Jul 20 — Portage Bay Big Band | Big Band Swing
Jul 27 — Kevin Buster's Lunch Money | Swing & Blues
Aug 3 — Ben Thomas Quartet | Tango
Aug 10 — Zydeco Sound | Zydeco
Aug 17 — Rouge: Music of Paris! | Waltz and Swing / a Ball Rouge; wear red!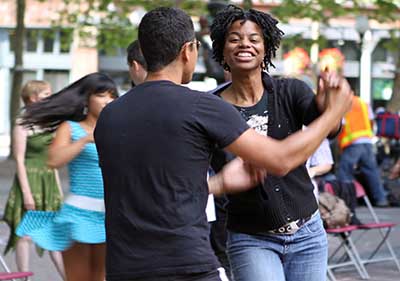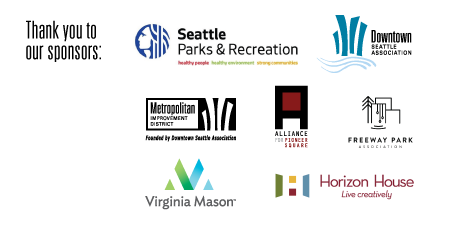 Organized by

Help support Dancing til Dusk!
You can support these fun Dancing til Dusk events:
To contribute to Dancing til Dusk, go to the Associated Recreation Council. They handle donations for Seattle Parks and Recreation, who produces DTD. You must select CCP-Downtown Park Support and then click on the "on behalf" button and enter DTD2017 in the text box.