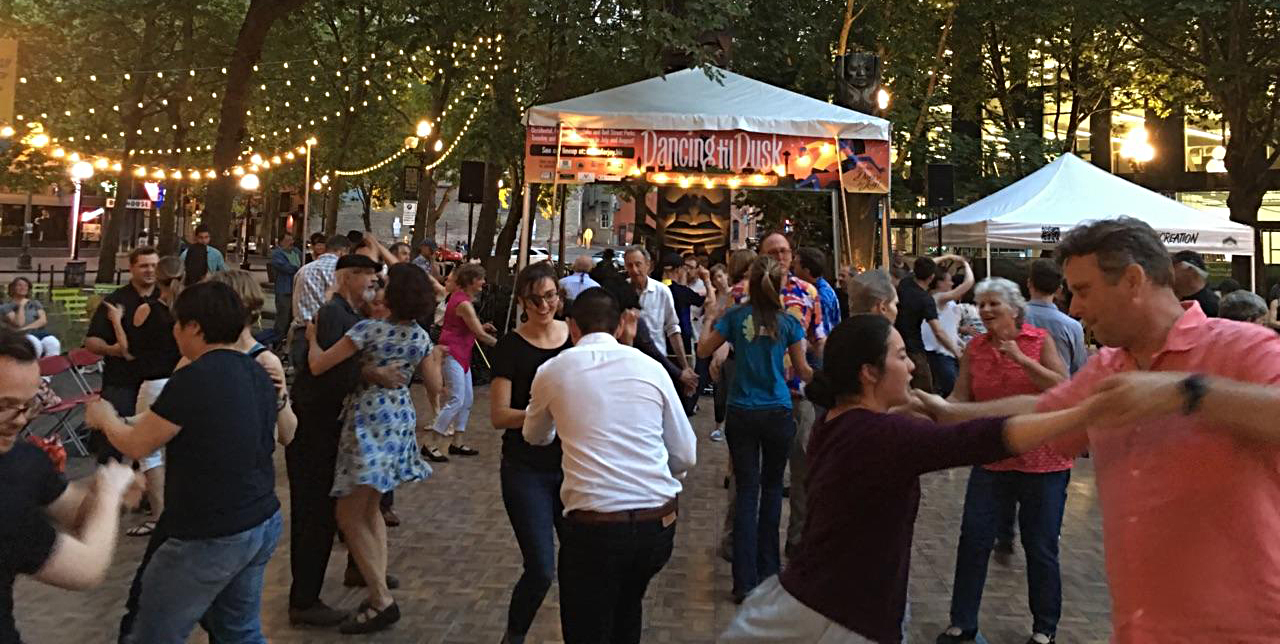 Join us for Dancing til Dusk 2016, 14 summer evenings of free music, dance lessons and dancing in downtown Seattle parks!
1st hour is a beginning dance lesson, no experience or partner required!
Rain Hotline: 206-264-5646
Tuesdays in Occidental Park
6-9:30pm
Jul 5 — Barrelhouse Jive Cats | 20s and '30s-era Swing
Jul 12 — Greg Ruby and the Scofflaw Quintet | Swing
Tuesdays in Westlake Park
6-9:30pm
Jul 19 — Folichon / DJ Gatorboy | Cajun & Zydeco
Jul 26 — Ranger and the 'Re-Arrangers' | Gypsy Swing
Aug 2 — DJ Koichi Tsunoda | West Coast Swing
Aug 16 — Jenny and the Tomcats | Country & Western
Aug 23 — Swingin' in the Rain with Dina Blade | Variety
Tuesdays in Freeway Park
6-9:30pm
Aug 9 — Solomon Douglas Quintet | Swing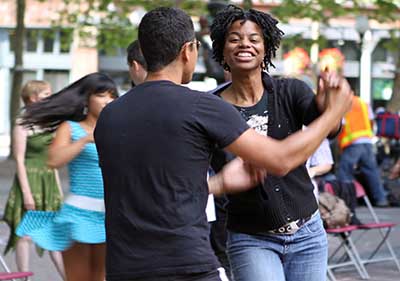 Thursdays in Freeway Park
6-9:30pm
Jul 21 — Portage Bay Big Band | Big Band Swing
Jul 28 — Buena Vibra | Salsa
Aug 4 — Ben Thomas Tango Quartet | Tango
Aug 11 — Kevin Buster's Lunch Money | Swing & Blues
Aug 18 — Waltz Café Orchestra | Waltz and More!
This is a Ball Rouge — wear something RED!
Thursdays in Bell Street Park
6-9:30pm
Aug 25 — DJ Chris Jones | West Coast Swing
SAVE THE DATE!
Tuesday, Aug 30 —
A Dancing til Dusk Fundraiser Celebration and Ball Blanc
KGB | Waltz, Swing, Foxtrot, Polka, Tango, Blues
7–9:30pm at Bell Street Community Center
$15/person, but $20 or more is even better!
Any amount over $15 will receive a receipt for taxes.
(This is a Ball Blanc — wear something WHITE!)
Come out for this evening dance to support this amazing Dancing til Dusk dance series!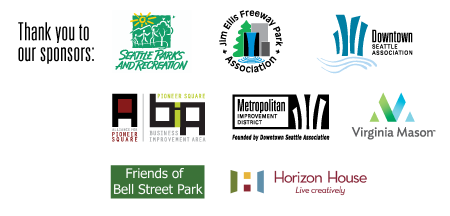 Organized by

Help support Dancing Til Dusk!
You can support these fun Dancing Til Dusk events:
Come to our Tuesday, August 30th Fundraiser and Waltz to KGB!
To contribute to Dancing Til Dusk, go to the Associated Recreation Council. They handle donations for Seattle Parks and Recreation, who produces DTD. Under "Donation Amount" you must select "Downtown Parks" and then under "Additional Details" enter DTD2016 in the text box.
Our Dancing Til Dusk  special donors
These folks donated more, in some cases a lot more, than the $15. Thank you from the bottom of our hearts and soles! You folks rock!
Robert Pretlow, Dave and Vicky Smith, Paul Griffin, Christine Sampson, Isabel Lin, Lauren Larkin, Craig Kreuger, Yana Vinko, Kenneth and Kim Schiewetz, Peter Shaw and Kathie Kelly, Ronald Cross, and MaryLou Harris.