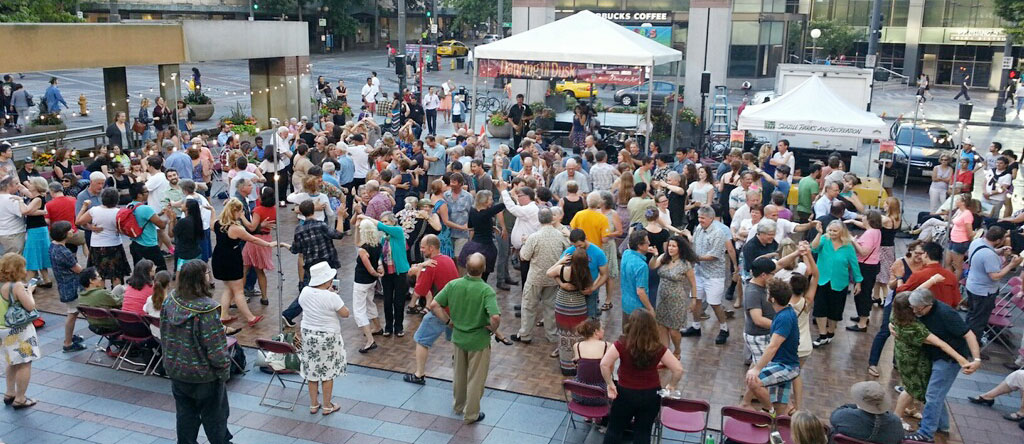 General information for Dancing Til Dusk  2016
All dances and lessons are FREE thanks to the support of our sponsors — please support and acknowledge their contribution!
Please check the location of each dance

as they are in one of four parks downtown. See map link for park addresses and directions.

In case of inclement weather call the Rain Hotline at 206-264-5646

to determine if the event will be cancelled.

Every night, the first hour will be a beginning lesson in the dance style for the evening.

There is a dance floor; if possible wear clean shoes that slide and do not black-mark the floor. No experience or partner is required for the lesson or dance. Each lesson will start at the beginning with the basics and will build in complexity, so be on time to get the most out of it. We have hired some of the best instructors in the city — this is your opportunity to learn from them!

Parking —

Available on the street or in lots close by. Meters are free after 8pm, so keep that in mind when parking. Earlier arrival often translates to less frustration, so plan accordingly and consider carpooling, the bus or bicycle.

Valuables —

Please also keep in mind that these dances are in public city parks. Leaving valuables where they can be picked up by passersby is risky. Plan to keep a car key and any money with you and leave your valuables at home.

Water and Beverages —

There may or may not be water or beverages in the area for purchase, so we recommend that you bring a bottle of water with you. Please take your bottles and trash with you when you leave and recycle for the good of the planet!
Thanks, and see you in the parks!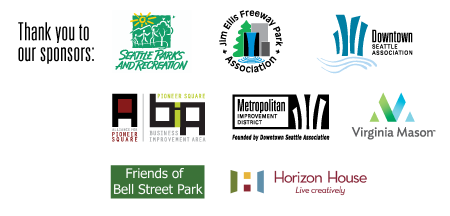 Organized by

Help support Dancing Til Dusk!
You can support these fun Dancing Til Dusk events:
Come to our Tuesday, August 30th Fundraiser and Waltz to KGB!
To contribute to Dancing Til Dusk, go to the Associated Recreation Council. They handle donations for Seattle Parks and Recreation, who produces DTD. Under "Donation Amount" you must select "Downtown Parks" and then under "Additional Details" enter DTD2016 in the text box.
Our Dancing Til Dusk  special donors
These folks donated more, in some cases a lot more, than the $15. Thank you from the bottom of our hearts and soles! You folks rock!
Robert Pretlow, Dave and Vicky Smith, Paul Griffin, Christine Sampson, Isabel Lin, Lauren Larkin, Craig Kreuger, Yana Vinko, Kenneth and Kim Schiewetz, Peter Shaw and Kathie Kelly, Ronald Cross, and MaryLou Harris.