Return to the Dance for Joy! Home Page

Welcome to "An Evening In Vienna" 2016!
Saturday, June 25th, 6pm
With music by Orchestra Espressiva

an exceptional ensemble created by Dave Bartley

On 6pm, Saturday, June 25th, the doors to the expansive and elegant University of Washington Hub Ballroom will open and mark the eighth An Evening in Vienna Ball and we invite you to attend! Please take a moment to read through this page. It contains helpful information and a few items important for all ball-goers. If you still have questions, please email lilli@att.net or call (206) 264‑5646. We are looking forward to the pleasure of your company! ~ Lilli Ann Carey
You will register as lead or follow through Paypal on our Registration page. If you provide your email address, we will confirm your reservations. Reservations will be limited to 300; tickets are not available at the door.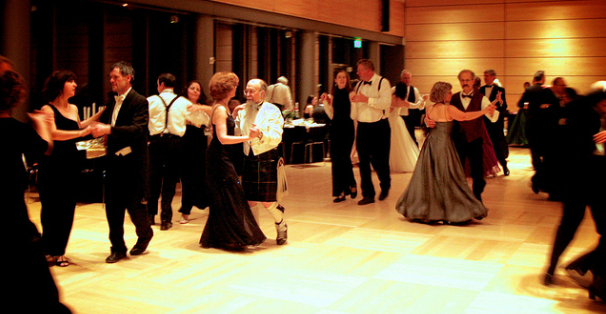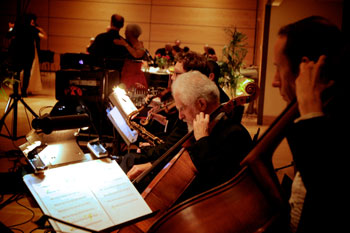 GENERAL ADMISSION $85/person
Increases to $95 after March 30th.
STUDENT $45/person
Middle School, High School or College;
please bring your valid student ID
TABLE RESERVATIONS —
$160 for a table for eight
A limited number of Reserved Tables will be available. The cost of the Reserved Table is in addition to the cost of the personal reservations. This is an excellent way to insure that there is a place for you and your group to meet. All tables not reserved will be open seating and shared by all participants.
Reservations are available
only from Dance for Joy!
Go to DFJ Registration
Or by mail — Make your check payable to Dance for Joy!, PO Box 16060, Seattle WA 98116. Please include the names of your party, and whether they are leads or follows, along with your email address so that we may confirm your reservation. If you do not have an email address, please provide your phone number if you wish to receive confirmation of receipt of payment.
General Information
SINGLES AND COUPLES?
Both couples and singles enjoy participating in the Ball and as is the case at similar events across the country, many dancers enjoy the pleasure of dancing with a variety of partners over the course of the evening.
BALL PREP CLASSES/WORKSHOP
If you would like to join us for An Evening In Vienna festivities, but feel your dance skills need a bit of polishing?
There will be a 3-hour Last Minute, Last Chance Ball Prep workshop on June 23rd, 6:30-9:30 pm, the Thursday evening before the Ball. Location to be announced. Register by email and pay at the door.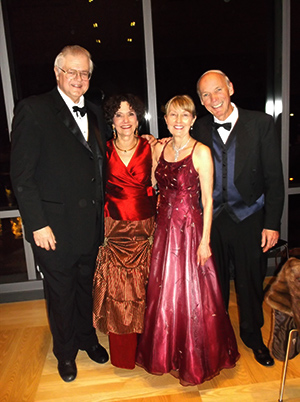 What does Black Tie,
White Tie Optional mean?
ATTIRE
Gentlemen's Formal Attire —
Black Tie, White Tie Optional
"Black tie" refers to the gentleman's clothing, more specifically a tuxedo with white shirt and black bow tie. "White Tie Optional" refers to the more dressy form with a white bow tie. Both are distinctly elegant. Vests or cummerbunds are often worn as well. Gloves are a nice touch, but optional. Men may rent tuxes for a modest fee and many tux shops carry a variety of price options for purchasing tuxes.
Ladies Formal Attire
Ladies typically opt for ball gowns — that is, floor length dresses. Many women around the United States enjoy wearing full-skirted ball gowns as they sway and float beautifully with the movement of the waltz. All colors are seen whirling on the dance floor. Gloves are a nice touch, but optional. Those that enjoy a flair to the more dramatic may choose vintage attire from the Regency period to the 1920's Ragtime Era.
Here are websites that might give you ideas —
vintagevictorian.com
trulyvictorian.com
vintagestyleclothing.com
recollections.biz
For moderately priced gowns, eBay and Goodwill are good resources. I have been successful with both in finding cost-conscious choices. I have also been very successful at a consignment store in Kirkland called Champagne Taste, 147 Park Lane (425) 828-4502.
Dancing at the Ball
There will be lots of Waltz of all tempos, Swing and Foxtrot, Polka, Tango and Cha Cha. When you arrive, there will be DJ'd music for mingling and dancing. The Grand March will commence the first Orchestra Set at approximately 6:45pm.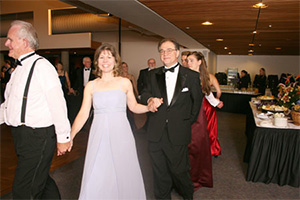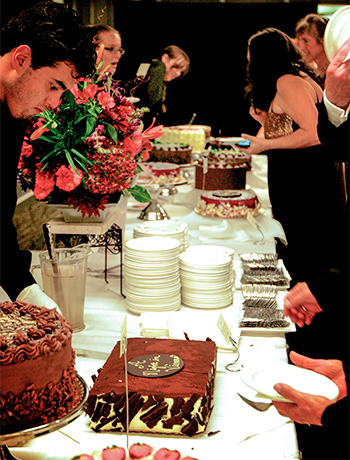 SPECIAL DANCES
AT THE EVENING IN VIENNA BALL
What is a Grand March?
The Grand March is indeed a March that includes walking to music in groups of twos, fours, eights or more. The Grand March created the grand opening for balls during most of the 19th century. There are leaders of the March that orchestrate the dance. It is and has been the historic and lively vehicle by which everyone passes, meets, briefly greets and has an opportunity to "see and be seen." And, as we say in dance class, "there's no prerequisite required."
What is a Fledermaus Quadrille?
It is a "set" dance involving forward and back movements, and the momentary exchange of partners. It is a playful walking dance and easy to learn and will be taught at the first Orchestra break. It is typically and historically danced at midnight or 2 am at grand balls in Vienna. (This may mean that we will all be dancing The Fledermaus together with those in Vienna!)
Other Events at the Ball
There will be performances on the second orchestra break and DJ'd music for dancing.
Eating and Drinking
As you arrive, a light buffet of various fruits, cheeses, breads, spreads and meats will be available. Later in the evening, a Grand Dessert Buffet will be presented with elaborate torts by Dilettante Chocolate and vegan torts by Whole Foods. Non-alcoholic beverages and water will be available throughout the evening.
Parking
Parking is available on the University of Washington Campus. The Padelford Garage is the closest parking not designated handicapped. You can find the location of the HUB Ballroom and Padelford Garage on this map of the UW campus.
Coat Check
A coat check operated by the University of Washington Swing Kids will be available for your personal items. The Swing Kids promote dance on the University Campus and are a non-profit organization. A donation box will be available for your support of their efforts — we suggest $2/coat.
We look forward to the pleasure of your company
at our "An Evening In Vienna" Waltz Ball 2016.
Go to DFJ Registration

or make your reservations by mail as noted above.