August Bands
Tuesday, August 2
DJ Koichi | West Coast Swing
6–9:30pm in Westlake Park
Koichi is rapidly becoming one of the most popular WCS DJ's in Seattle and beyond — a regular at the Century Ballroom and China Harbor, you'll also fine him featured for the plum late night gigs at West Coast Swing conventions. Koichi has a special knack for putting together a playlist that drives the dance and the dancers. Don't expect to sit down much — you'll only jump to your feet when the next song comes on. Koichi on Facebook
Beginning West Coast Swing lesson with Jim Minty
Jim Minty''s teaching focus is on helping people to "feel" their dance vs. learning to dance a pattern. Using innovative techniques and teaching tools, Jim's desire is to help dancers achieve an understanding of the dance and what they need to work on whether from a competitive or social dance perspective. Jim can coach you with your routines to ensure you are giving your best performance or teach you to go from walking to having fun on the dance floor.
Jim is a complete resource as certified G.S.D.T.A instructor, judge, chief judge and national competitor. He has more experience than anyone else in the Northwest covering all aspects of the WCS world. He has been teaching and competing all over the U.S. since 1996 and has been instructing locally in Canada and Washington since 1987. While Jim has training, teaching and competing experience in ballroom and country dance he currently specializes in West Coast Swing, Night Club 2-Step and Hustle. Jim is the event director for Seattle's Easter Swing, our national dance convention. See his instructional videos at swingdancestuff.com.
Thursday, August 4
Ben Thomas Tango Quartet | Tango
6–9:30pm in Freeway Park
A favorite with Seattle dancers since 2007, the Ben Thomas Tango Quartet is dedicated to playing music that engages both dancers and listeners. With repertoire ranging from classic Golden Age tango to more modern and original compositions, they bring decades of combined professional experience to create a rich ensemble sound.
Beginning Tango lesson by Ben Thomas and Jennifer Richard, http://jenniferrichardphotography.com/dance/
Tuesday August 9
Solomon Douglas Swingtet | Swing
6–9:30pm in Freeway Park
Solomon Douglas is a jazz pianist and bandleader, whose various bands have played at more than fifty swing dance events in North America, Asia, and Australia in the past ten years. His experience as a swing dancer and dance instructor gives him an understanding of the music that swing dancers like to dance to!
The Solomon Douglas Quintet's repertoire is rooted in the sounds of the Basie and Ellington bands, with other big-band standards and classic jazz tunes thrown in: up-tempo classic swing, slower groovier jazz, and anything in between. solomondouglas.com
Beginning East Coast Swing lesson with Guy Caridi and Nancy Fry / nwdance.net savoyswing.org
Guy Caridi has been dancing since 1988, performing and choreographing since 1991, and teaching since 1993. He is a founding member of Seattle's Savoy Swing Club and with his dance partner, Nancy Fry, the first couple from the Pacific Northwest to teach Lindy Hop and Balboa. He has taught and performed internationally and is well known for his respectful, sensitive and humorous teaching style. Guy has been artistic director of the Savoy Swing Club Performance Troupe for over fourteen years, creating eye-popping choreographies seen and enjoyed by thousands of dancers and not-yet dancers alike. In 1999, Guy and Nancy took home trophies in the Lindy Hop and Team divisions at the U.S. Open Swing Dance Championships in Southern California. In total, four of five routines choreographed by Guy were place-winners.
Nancy Fry discovered her passion for dance in 1981 and has been dancing ever since. Over the years she has participated in a large variety of partner dances, and enjoys it all. Nancy's joy on the dance floor is in connecting with her partner, and she believes that this connection is where the magic in partner dancing is to be found. Nancy began teaching swing and waltz with Northwest Dance in 2004, and is happy to be part of this great team. Her teaching focus concerns that special connection between partners, in helping her students develop the ability to communicate and move together — to lead and follow — while having fun.
Thursday, August 11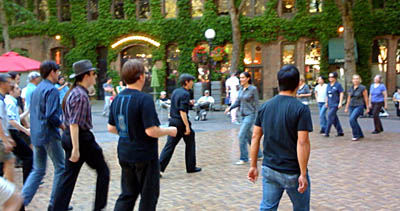 ---
Kevin Buster's Lunch Money

| Blues
6–9:30pm in Freeway Park

Kevin Buster's Lunch Money, one of the hottest Blues/Jazz bands around. Kevin's band brings out the best in the creative dancer's heart with a jazziness that inspires. This band is as fun to listen to as to dance to with tunes that stretch from earthy Blues to Rhythm & Blues to Big Band Swing. kevinbuster.com

Beginning Blues lesson with Kevin Buster
seattleswingdancesociety
Kevin Buster has been dancing for 13 years.He has studied with original master Savoy swing dancers like: Frank Manning, Norma Miller, Sugar Sullivan and Dawn Hampton and also with master swing dancer Lennart Westerlund (leader of the Rhythm Hotshots and Harlem Hotshots). Kevin has been studying the relationship of Swing, Tap, and African dancing. His study has taken him to Guinea West Africa to learn from Grand Master Sorell and Youssouf Kombassa both of Les Ballets Africains. Kevin Has been studying tap dance for 6 years. He is also a saxophone, flute, and clarinetist. He plays swing, blues, and jazz music with various local bands. Kevin's strong musicality, patience and improvisational ability ensure fun and exciting classes for all dancers regardless of ability.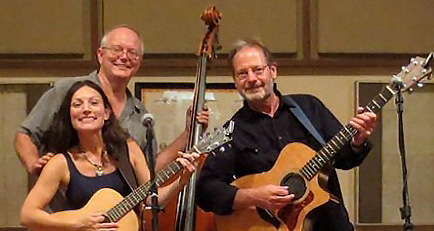 ---
Tuesday August 16
Jenny and the Tomcats | Country & Western
6–9:30pm in Westlake Park
Great vocals, harmonies and a snappy acoustic rhythm are the hallmarks of Jenny and the Tomcats.
Forged by a couple of years of weekly gigs at Seattle's main country bar, the Little Red Hen, this trio understands the symbiotic relationship between dancers and musicians; from two steps to swing, to waltzes, and cowboy cha chas.
Jenny sings, plays rhythm guitar, and tends to enchant those who hear her. Tommy sings, plays some amazing lead acoustic guitar, and has had the opportunity to share the stage with such international stars as Ricky Skaggs, Waylon Jennings, Johnny Cash and Reba McIntyre. Jerry (the cat) sings, plays the upright bass, has been known to teach country dance lessons, and occasionally yodels.
Robb Bryan has taught for us at Dancing 'til Dusk three years in a row. As a successful DJ and the organizer of the weekly Country Hayloft Dance, he's got the licks. This time he will not only teach Country 2-step but will also show you how to combine it with swing steps for great social floor variety.
With country 2-step swing dance lesson by Robb Bryan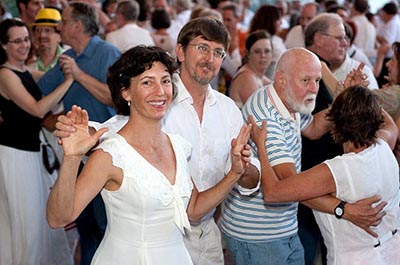 ---
Thursday, August 18
Waltz Café Orchestra | Waltz, Swing, Foxtrot, Polka
6–9:30pm in Freeway Park
(This is a
Ball Rouge

— wear something RED!)

The idea of a "café" orchestra appeared more then a hundred and fifty years ago in Imperial Vienna, and the Waltz Café Orchestra has brought this good idea into the 21st Century: a small, nimble ensemble that can play like its big-cousin symphony orchestras — when it wants to — or shrink to a trio or a quartet when the mood is intimate. Performing post-modern renditions of dance-hall classics, this ensemble's repertoire celebrates a mélange of bygone eras and cultures: Paris in the thirties. Habsburg Vienna. Yiddish melancholy. Gypsy romance. Ragtime Manhattan. The milongas of Buenas Aires — all connected by the mesmerizing cadence of waltz and the exuberant syncopation of swing. Perfect for dancers and other romantics. valsecafeorchestra.com

Beginning Waltz lesson with Lesson by Dean Patonat, Century Ballroom
Tuesday, August 23rd
---
Swingin' In the Rain w/ Dina Blade | Retro Swing
6–9:30pm in Westlake Park
Dina Blade is a refreshingly natural singer with a great sense of time and swing who specializes in singing American popular songs from the 1930s and '40s, preserving the work of master composers and lyricists from that era. An effervescent performer, she has written and toured several different thematic shows celebrating the Great American songbook.
Dina has released five recordings, earning international acclaim for her cd project "I'm In The Mood For Love'" featuring the lyrics of Dorothy Fields. "This is a rather addictive recording..." noted London's Jon Aldous, host of the Dorothy Fields website. KPLU's "Jazz Northwest'" DJ Jim Wilke praised her voice as "warm and inviting, fresh and original," and included her recent CD, "My Romance'" on his "Best of the Northwest" list. dinablade.com
Beginning East Coast Swing Lesson by Daniel Newsome / savoyswing.org
Daniel Newsome has been a professional dancer, dj and historian for the last 10 years. In addition to teaching tens of thousands of students at Denver`s Mercury Cafe, Daniel has also travelled to learn, teach, compete and has won at major national competitions such as the Ultimate Lindy Hop Showdown, Midwest Lindy Fest, Reno Dance Sensation, National Jitterbug Championships and the Rhythmic Arts Festival. He also co-founded, choreographed and coached 23 Skidoo, Denver`s nationally recognized swing team, and also has a new team in Seattle that won at ULHS in its first year. Daniel has dozens of first place wins, but his lifelong pursuit is to touch as many lives as possible with the beauty and artistry of Lindy Hop, Shag, Balboa, Solo Jazz Dance and Tap. His goal is to bring music and dance to people in a way that inspires them and develops talent in anyone, regardless of background, age or ability.
Thursday, August 27
DJ Chris Jones | West Coast Swing
6–9:30pm in Bell Street Park
Chris Jones heralding from Portland, OR, is one of the most sought after DJs both locally and at West Coast Swing conventions in the region. A judge and exceptional dancer in his own right, he really gets the mix to keep dancers on the floor. As one dancer said, "he plays music you just have to dance to."
No dance lesson.
SAVE THE DATE!
Tuesday, August 30 — A Dancing til Dusk Fundraiser Celebration
KGB | Waltz, Swing, Foxtrot, Polka, Tango, Blues
7–9:30pm at Bell Street Community Center
$15/person, but $20 or more is even better!
Any amount over $15 will receive a receipt for taxes.
(This is a Ball Blanc — wear something WHITE!)
Come out for an afternoon and evening dance to support this amazing Dancing til Dusk dance series!
KGB — No security clearances are required to enjoy KGB. With fiddle, mandolin, guitar and piano, KGB creates subversive music lulling the unwary with traditional New England Contra dance tunes, then jumping off into Balkan modalities, Tango riffs and bluesy jigs. KGB's extraordinary waltzes captivate dancers song after song, each melody more delightful or exquisite than the last. Delight in the magic of swirling dancers as the sun sinks into the evening. www.kgbmole.com/kgb
Be prepared for a final afternoon and evening of the best dancing! The event is $15 per person, but you may donate more and receive a receipt for your taxes!
No dance lesson.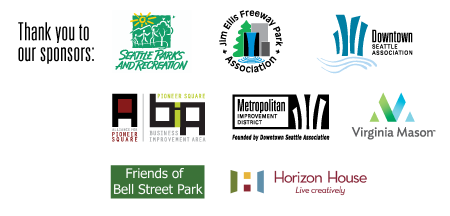 Organized by

Help support Dancing Til Dusk!
You can support these fun Dancing Til Dusk events:
Come to our Tuesday, August 30th Fundraiser and Waltz to KGB!
To contribute to Dancing Til Dusk, go to the Associated Recreation Council. They handle donations for Seattle Parks and Recreation, who produces DTD. Under "Donation Amount" you must select "Downtown Parks" and then under "Additional Details" enter DTD2016 in the text box.
Our Dancing Til Dusk  special donors
These folks donated more, in some cases a lot more, than the $15. Thank you from the bottom of our hearts and soles! You folks rock!
Robert Pretlow, Dave and Vicky Smith, Paul Griffin, Christine Sampson, Isabel Lin, Lauren Larkin, Craig Kreuger, Yana Vinko, Kenneth and Kim Schiewetz, Peter Shaw and Kathie Kelly, Ronald Cross, and MaryLou Harris.