August Bands
Thursday, August 2nd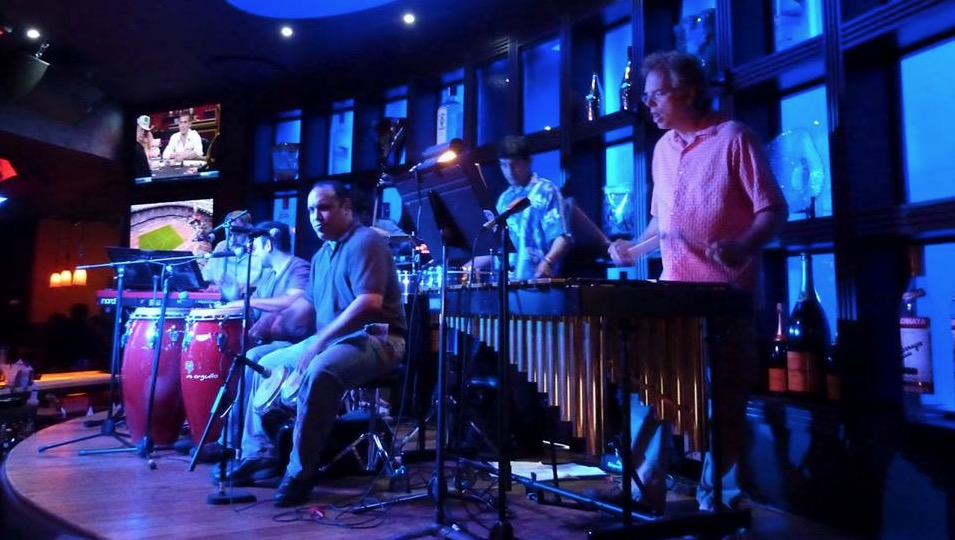 ---
Buena Vibra | Salsa
6‑9:30pm in Freeway Park
Buena Vibra's mission is to recapture the glory days of the classic era of Salsa, Joe Cuba and Cheo Feliciano, Jimmy Sabater and the more modern sounds of Ruben Blades and Seis del Solar. The sextet is comprised of Fred Hoadley, piano and back up vocals; Jeff Norwood, Bass; Scott Ketron, Vibes and back up vocals; Sammy Alamillo, Timbales; Steve Guasch, Bongo and back up vocals; and Joe de Jesus on Conga and lead vocals. BuenaVibra is the newest addition to the Seattle salsa scene and promises to keep you dancing the night away. Buena Vibra Sextet on Facebook
Salsa lesson with Michael Cahn | suenosdesalsa.com
Michael grew up in Santa Fe listening to the Latin rhythms of his father's flamenco troupe. During Spanish language studies in Cuzco, Peru, he discovered salsa dance, and when he returned to the U.S. he joined every salsa class he could find. Desiring a deeper understanding of the dance, Michael traveled to Havana Cuba to study with Yaykel Parez. He studied for the next several years, traveling to Ecuador, Mexico and all over the USA and has trained and performed with world champions, Omar Muños, Johnny Vazquez, and trained with Jonathan Ibarra, Jhon Narvarez, Adrian and Anita, Alien Ramerez and many others. He has performed and competed throughout the Northwest.
Tuesday, August 7th
DJ Koichi Tsunoda | West Coast Swing
6‑9:30pm in Westlake Park
Koichi is rapidly becoming one of the most popular WCS DJ's in Seattle and beyond — a regular at the Century Ballroom and China Harbor, you'll also fine him featured for the plum late night gigs at West Coast Swing conventions. Koichi has a special knack for putting together a playlist that drives the dance and the dancers. Don't expect to sit down much — you'll only jump to your feet when the next song comes on. Koichi on Facebook
Beginning West Coast Swing lesson with Rebecca Savoca and Reginald Beason / danceworksstudio.com
See a sample of their dancing here.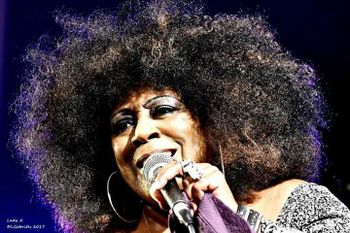 ---
Thursday, August 9th
Lady A Band | Blues, Funk & Soul, 6‑9:30pm in Freeway Park
Lady A isn't called the "Hardest Workin' Woman in Blues, Soul , Funk & Gospel" for nothin'. Her high energy show has been compared to the likes of Tina Turner and Chaka Khan, and with her powerful, sultry-husky voice, contemporary blues styling, and an ensemble of superb musicians, the groovy music will be pumpin' and this joint will be jumpin'. Expect slow, smoky blues and funky dance numbers that'll have you up and shakin' what your mama gave you from the first song to the last. ladyababyblues.com
Beginning Blues dance lesson by Sean Donovan | GatorBoyProductions.com
Sean Donovan combines passion for music and dance with his great love of teaching to provide joyful, exciting dance classes for all skill levels. Positive and playful, Sean is a creative and highly effective communicator, with intuitive movement awareness and a focus on the vital power of dance to delight and transform us. A professional instructor and DJ since 1999, Sean teaches partner dance nationally as well as year-round in Seattle, and has been on faculty with Northwest Dance Network, nwdance.net, since 2004. In addition to Swing (his first love) and Zydeco (a profound connection prompting numerous expeditions to Louisiana and Texas), Sean revels in teaching Blues, Waltz, Whiskey River Jitterbug, Country Two-step, Cha Cha Cha and more. A professional DJ as well, Sean produces dances, provides music for special events and can be heard hosting live radio on KBCS 91.3 FM. Contact Sean about private or group lessons.
Tuesday, August 14th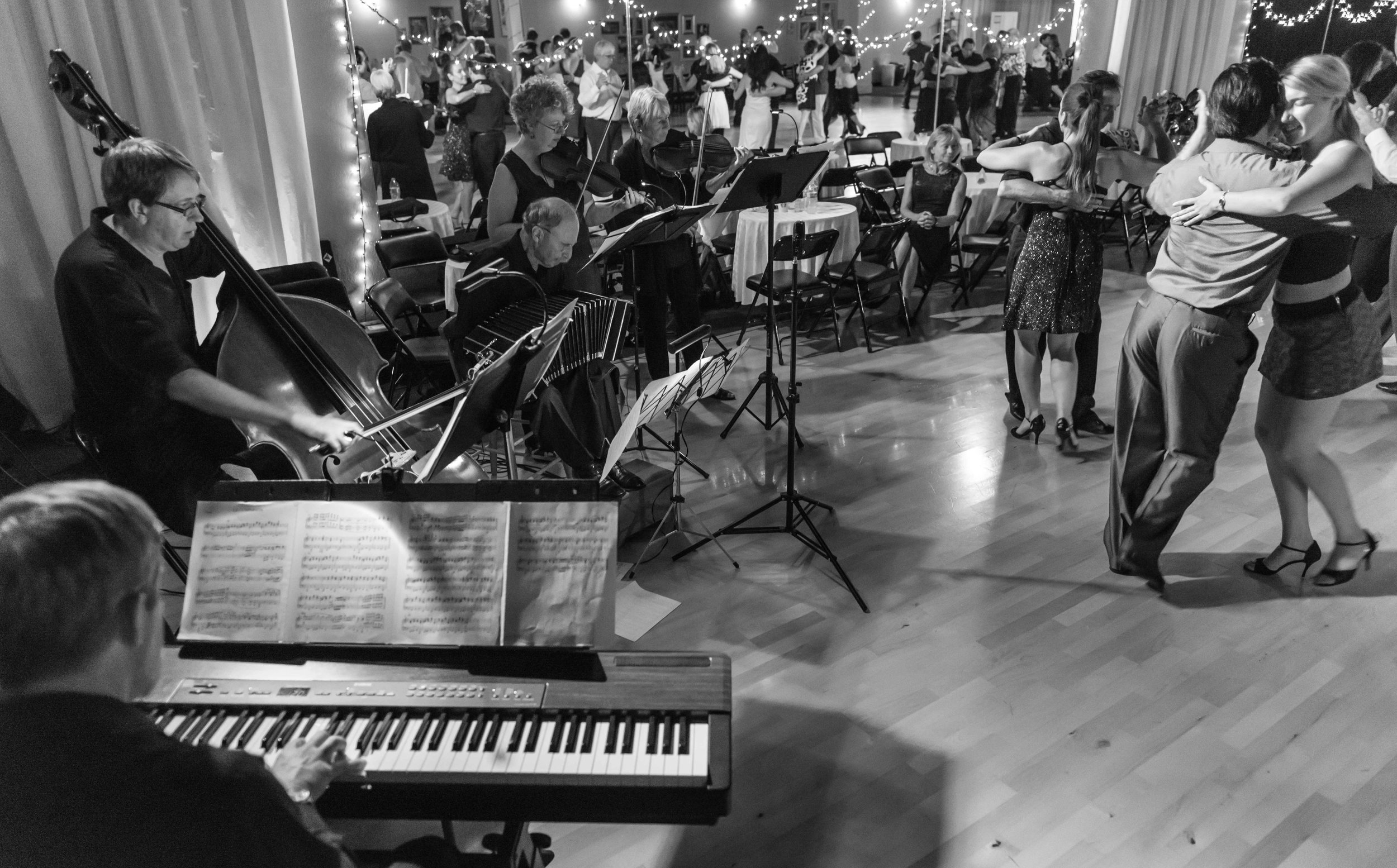 ---
Tangoheart | Tango, 6‑9:30pm in Westlake Park
Since 1999, Tangoheart Quintet has been the premier tango ensemble in the Pacific Northwest. The quintet is an authentic classic orquesta typica with piano, contrabajo, string section, and the bandoneon, the Argentine instrument with its emblematic tango sound.
The group is led by Port Townsend's Bertram Levy, who has spent the last quarter century immersed in the Argentine tango. Since 2005, he has spent much of his time studying the bandoneon in Buenos Aires where he studies at the Conservatorio Manuel de Falla with the great Rodolfo Daluisio, and from where he brings back fresh material for the group. The group's driving bass lines belong to jazz arranger, performer and longtime tanguero Andy Carr on the piano and the great Todd Gowers, Seattle's bassist for all seasons. The string section includes world music specialist Ruthie Dornfeld on violin and long time Seattle Symphony assistant principal violist, Dorothy Shapiro, on viola.
Beginning Tango lesson by Kristina Ivanova / LaVidaStudio.com
Kristina is Co-Founder, Manager and Instructor at LaVida Dance & Yoga Studio and is committed to growing the Tango community on Seattle's east side. She has been teaching Argentine tango since 2007; her background in dance choreography, ballroom Latin, and belly dance, as well as yoga practice nowadays help her to understand the natural way of the body movement. Thus, she easily reads each students' body movement patterns and develops the unique way to communicate information. She addresses students' specific needs helping them to learn tango effectively. She also DJs Alternative Tango music.
Thursday, August 16th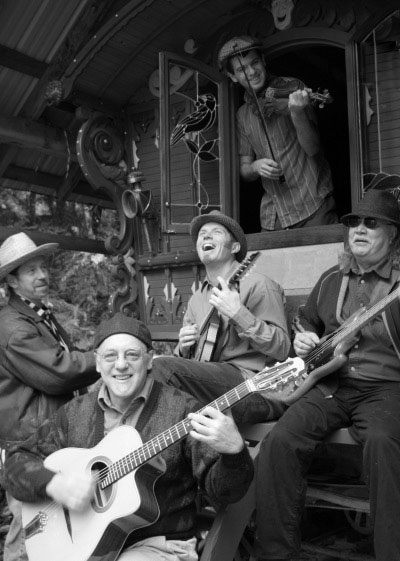 ---
Ranger and the 'Re-Arrangers' | Gypsy Swing/Variety
6‑9:30pm in Freeway Park
Seattle Gypsy Jazz band Ranger and the "Re-Arrangers" evoke the spirit of a Paris café and the raucous energy of a Gypsy campsite with their unique twist on gypsy jazz. "At the heart of their sound is Ranger Sciacca's sweet violin playin, his sense of melody and daring improvisations" (World Rhythm Webzine). The band's repertoire includes swing standards, traditional Gypsy melodies, the music of Django Reinhardt and Stephane Grappelli, and Ranger's unique originals. Ranger and his father Michael formed Ranger and the "Re-Arrangers" in 2006, after returning from the Django Reinhardt festival in Samois, France. In the years since, the band has released 3 CDs and played over 500 shows, including summer concerts, festivals, swing dances, art openings, and weddings. rangerswings.com
Beginning Swing lesson by Lilli Ann Carey / danceforjoy.biz
Lilli Ann Carey loves to dance almost anything, but focuses her teaching on Waltz, West Coast and East Coast Swing, Zydeco, Polka, Foxtrot, One-Step/Blues, Fusion and a few vintage dance forms. Lilli Ann promotes dance classes, workshops and events through her company, Dance for Joy!, and is committed to developing a creative, connected and playful dance community here in Seattle.
In line with that committment, Lilli Ann also coordinates this highly successful Dancing til Dusk program for Seattle Parks and Recreation.
Thursday, Aug 23rd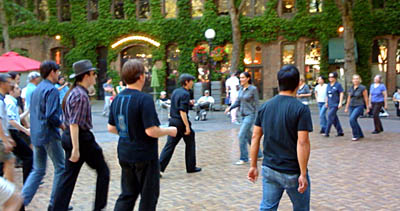 ---
Kevin Buster's Lunch Money

| Waltz, Swing, and Blues
6–9:30pm in Freeway Park

This is a Ball Rouge; please wear red!

Kevin Buster's Lunch Money, one of the hottest Blues/Jazz bands around. Kevin's band brings out the best in the creative dancer's heart with a jazziness that inspires. This band is as fun to listen to as to dance to with tunes that stretch from earthy Blues to Rhythm & Blues to Big Band Swing. kevinbuster.com

Beginning Waltz lesson by Dean Paton, Century Ballroom
Dean is an accomplished professional dancer and instructor of noncompetitive social dance – think Viennese waltz, swing and foxtrot, and two-step — at the Century Ballroom. Along with his dancing, he founded the Valse Café Orchestra, an ensemble of top-drawer musicians that performs Waltzes and other styles of music for formal balls and dances in the Pacific Northwest. They have played for Dancing til Dusk many times. Dean is the group's percussionist and artistic director.
Tuesday, August 28th
FUNDRAISER for Dancing til Dusk
Valse Café Orchestra with Dina Blade
6-9pm
Belltown Community Center, 415 Bell St, Seattle
Recommended donation $20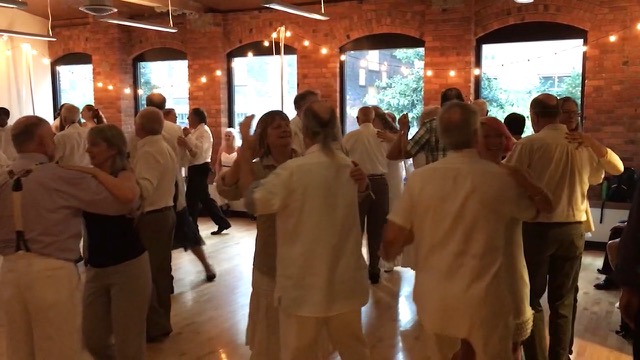 Thursday, September 6th
---
RESCHEDULED! Swingin' In the Rain w/ Dina Blade | A Little Bit of Everything
6–9:30pm in Westlake Park
Dina Blade is a refreshingly natural singer with a great sense of time and swing who specializes in singing American popular songs from the 1930s and '40s, preserving the work of master composers and lyricists from that era. An effervescent performer, she has written and toured several different thematic shows celebrating the Great American songbook.
Dina has released five recordings, earning international acclaim for her cd project "I'm In The Mood For Love'" featuring the lyrics of Dorothy Fields. "This is a rather addictive recording..." noted London's Jon Aldous, host of the Dorothy Fields website. KPLU's "Jazz Northwest'" DJ Jim Wilke praised her voice as "warm and inviting, fresh and original," and included her recent CD, "My Romance'" on his "Best of the Northwest" list. dinablade.com
Beginning Swing lesson by Lilli Ann and Claire Carey / danceforjoy.biz
Lilli Ann Carey began partner dancing with Living Traditions/Northwest Dance Network in the 1990's, where the draw of instruction, music, dance and community made her a complete convert. She loves to dance almost anything, but focuses her teaching on Waltz, Swing variations, Zydeco, Polka, Foxtrot, One-Step/Blues, Fusion and a few vintage dance forms. Lilli Ann promotes dance through classes, workshops and events through her company, Dance for Joy! She also coordinates the highly successful Dancing 'til Dusk program for Seattle Parks and Recreation during the summer, which attracts hundreds of dancers (and soon to be dancers) each night. Lilli Ann has taught in Vancouver BC, Juneau, Alaska, D.C., Baltimore, Atlanta, in the Bay area and in Portland. Her creativity, love of the connected and playful dance and innovation has brought her recognition and an ongoing and excited student base.
Claire Carey started learning East Coast swing at age 7, and quickly realized dance was a place she could be totally herself. Soon the repertoire included waltz, zydeco, blues, Lindy Hop, foxtrot, and nightclub two-step. At age 15, Claire started teaching with her mom, Lilli Ann Carey, and the duo became known for fun and creativity. While partner dancing was always a hobby, and teaching quickly became a passion, Claire didn't become obsessed until she began learning West Coast swing. Claire is very thankful to have had the opportunity to train with top level professionals in West Coast such as Jordan & Tatiana, Sean & Courtney, John & Alyssa, Robert Royston, Jim Minty, and her coach of many years, Katie Schneider. Her hard work has paid off with multiple first and second placements, and currently competes at the Advanced level. Although Claire is a technician through and through, her abundant joy and idiosyncratic nature are always in play.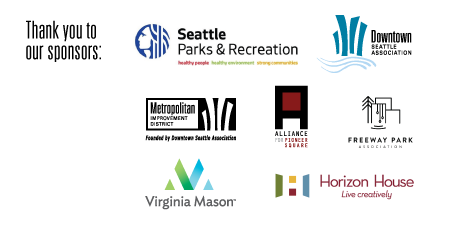 Organized by

Help support Dancing til Dusk!
You can support these fun Dancing til Dusk events:
To contribute to Dancing til Dusk, donate here: