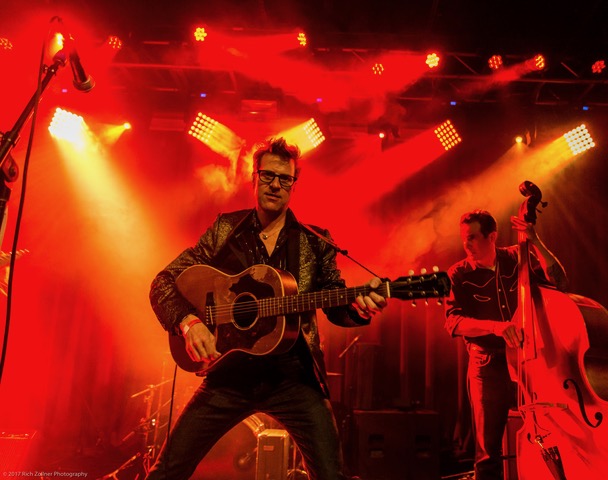 ---
July Bands
Tuesday, July 11th
Billy Joe Show | Honky Tonk/Swing
6–9:30pm in Occidental Park
Billy Joe Huels, leader and trumpeter of the established band The Dusty 45s, has inspired and fired up crowds for over two decades from coast to coast. Beginning in 2016, when not on tour, Huels created a weekly gig in various juke joints throughout Seattle called, "The Wednesday Night Club." He joined forces with guitarist and singer Rod Cook, upright bass player Robin Cady and drummer Kohen Burrill to form "The Billy Joe Show."
The Billy Joe show brings a dynamic sound and vintage style to the stage. They champion the foundations of American roots music, honky tonk, jump blues and rock and roll. The band belts out and delivers signature Dusty 45s tunes while mixing in classic and obscure covers ranging from Buddy Holly to Hank Williams and Louis Armstrong.
Beginning East Coast Swing lesson with instructor Daniel Newsome \ The Home of Happy Feet
Daniel Newsome has been a professional teacher, performer, dj, historian and avid social dancer since 1996. He is considered a preservationist and an innovator in Lindy Hop, Aerial Dance, Blues, Balboa, Shag, Tap and more. Daniel learned from many teachers of both the modern and original swing era to become a fixture in the national competitive scene. He has won at major national competitions such as the Ultimate Lindy Hop Showdown, Midwest Lindy Fest, Reno Dance Sensation, National Jitterbug Championships and the Rhythmic Arts Festival. His clear coaching style puts him in front of thousands of students every year.
Tuesday, July 18th
Jukehouse Hounds | Rock 'n Roll Swing
6–9:30pm in Occidental Park
The Jukehouse Hounds are just that… American roots music professionals-for-lifers that individually have played on stages of all sizes with an amazingly diverse cross-section of hallowed names (try Chuck Berry? Bo Diddley? Wanda Jackson? Etta James? Bill Frisell? Fiona Apple? Mark Lanegan? Members of Pearl Jam??)… These guys have banded together to do it together their way, the RIGHT way — always musical, always fun, always exciting, and always engaging their audience. Dancin', laughin', swingin', and howlin' good times guaranteed.
Beginning East Coast Swing lesson by Lilli Ann and Claire Carey / danceforjoy.biz
Lilli Ann Carey began partner dancing with Living Traditions/Northwest Dance Network in the 1990's, where the draw of instruction, music, dance and community made her a complete convert. She loves to dance almost anything, but focuses her teaching on Waltz, Swing variations, Zydeco, Polka, Foxtrot, One-Step/Blues, Fusion and a few vintage dance forms. Lilli Ann promotes dance through classes, workshops and events through her company, Dance for Joy! She also coordinates the highly successful Dancing 'til Dusk program for Seattle Parks and Recreation during the summer, which attracts hundreds of dancers (and soon to be dancers) each night. Lilli Ann has taught in Vancouver BC, Juneau, Alaska, D.C., Baltimore, Atlanta, in the Bay area and in Portland. Her creativity, love of the connected and playful dance and innovation has brought her recognition and an ongoing and excited student base.
Claire Carey started learning East Coast swing at age 7, and quickly realized dance was a place she could be totally herself. Soon the repertoire included waltz, zydeco, blues, Lindy Hop, foxtrot, and nightclub two-step. At age 15, Claire started teaching with her mom, Lilli Ann Carey, and the duo became known for fun, creativity, and occasionally a priceless mom/daughter moment.
While partner dancing was always a hobby, and teaching quickly became a passion, Claire didn't become obsessed until she began learning West Coast swing. Claire is very thankful to have had the opportunity to train with top level professionals in West Coast such as Jordan & Tatiana, Sean & Courtney, John & Alyssa, Robert Royston, Jim Minty, and her coach of many years, Katie Schneider. Her hard work has paid off with multiple first and second placements, and currently competes at the Advanced level.
Although Claire is a technician through and through, she always brings her abundant joy and idiosyncratic nature into the room.
Thursday, July 20th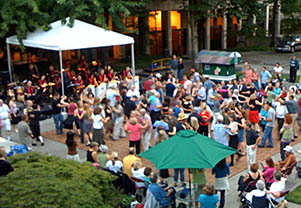 ---
Portage Bay Big Band | Big Band Swing
6–9:30pm in Freeway Park
Back for their 5th year, Portage Bay Big Band is one of the most consistent and popular Big Band Swing bands in the Northwest, back for their fourth year. They deliver a sound fully encompassing the hot vitality of the Swing years and really know how to show the Swing crowd a great time. portagebaybigband.com
Beginning East Coast Swing lesson with Guy Caridi and Nancy Fry / nwdance.net savoyswing.org
Guy Caridi has been dancing since 1988, performing and choreographing since 1991, and teaching since 1993. He is a founding member of Seattle's Savoy Swing Club and with his dance partner, Nancy Fry, the first couple from the Pacific Northwest to teach Lindy Hop and Balboa. He has taught and performed internationally and is well known for his respectful, sensitive and humorous teaching style. Guy has been artistic director of the Savoy Swing Club Performance Troupe for over fourteen years, creating eye-popping choreographies seen and enjoyed by thousands of dancers and not-yet dancers alike. In 1999, Guy and Nancy took home trophies in the Lindy Hop and Team divisions at the U.S. Open Swing Dance Championships in Southern California. In total, four of five routines choreographed by Guy were place-winners.
Nancy Fry discovered her passion for dance in 1981 and has been dancing ever since. Over the years she has participated in a large variety of partner dances, and enjoys it all. Nancy's joy on the dance floor is in connecting with her partner, and she believes that this connection is where the magic in partner dancing is to be found. Nancy began teaching swing and waltz with Northwest Dance in 2004, and is happy to be part of this great team. Her teaching focus concerns that special connection between partners, in helping her students develop the ability to communicate and move together — to lead and follow — while having fun.
Tuesday, July 25th
---
Swingin' In the Rain w/ Dina Blade | Retro Swing
6–9:30pm in Westlake Park
Dina Blade is a refreshingly natural singer with a great sense of time and swing who specializes in singing American popular songs from the 1930s and '40s, preserving the work of master composers and lyricists from that era. An effervescent performer, she has written and toured several different thematic shows celebrating the Great American songbook.
Dina has released five recordings, earning international acclaim for her cd project "I'm In The Mood For Love'" featuring the lyrics of Dorothy Fields. "This is a rather addictive recording..." noted London's Jon Aldous, host of the Dorothy Fields website. KPLU's "Jazz Northwest'" DJ Jim Wilke praised her voice as "warm and inviting, fresh and original," and included her recent CD, "My Romance'" on his "Best of the Northwest" list. dinablade.com
Beginning East Coast Swing lesson with Ari Levitt / Rolluptherug.com
Ari has been partnering, teaching, and performing dance in the Greater Seattle area, nationally, and internationally for over 25 years. An award-winning dancer, teacher, and performer, his breadth of styles include Lindy Hop, Swing, Balboa, Blues, Ballroom, One-Step, NC2S, WCS, Salsa, Tango, & Latin. He has been instrumental in creating several innovative new dance styles, including "Fusion Waltz," "Fusion Swing," and "Fusion Night Club 2-Step," which he has been busy introducing in workshops throughout the country. He is the co-founder and director of "Waltz Week in Vienna" and "New Zealand Dance Adventure."
Thursday, July 27th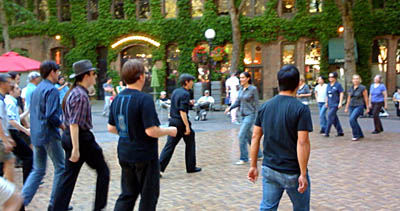 ---
Kevin Buster's Lunch Money

| Blues
6–9:30pm in Freeway Park

Kevin Buster's Lunch Money, one of the hottest Blues/Jazz bands around. Kevin's band brings out the best in the creative dancer's heart with a jazziness that inspires. This band is as fun to listen to as to dance to with tunes that stretch from earthy Blues to Rhythm & Blues to Big Band Swing. kevinbuster.com

Beginning Blues lesson with Kevin Buster / seattleswingdancesociety
Kevin Buster has been dancing for 13 years.He has studied with original master Savoy swing dancers like: Frank Manning, Norma Miller, Sugar Sullivan and Dawn Hampton and also with master swing dancer Lennart Westerlund (leader of the Rhythm Hotshots and Harlem Hotshots). Kevin has been studying the relationship of Swing, Tap, and African dancing. His study has taken him to Guinea West Africa to learn from Grand Master Sorell and Youssouf Kombassa both of Les Ballets Africains. Kevin Has been studying tap dance for 6 years. He is also a saxophone, flute, and clarinetist. He plays swing, blues, and jazz music with various local bands. Kevin's strong musicality, patience and improvisational ability ensure fun and exciting classes for all dancers regardless of ability.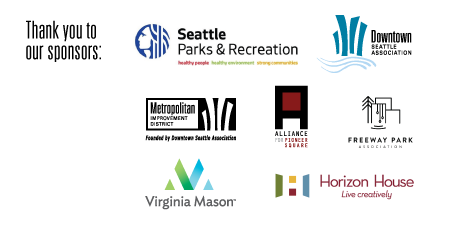 Organized by

Help support Dancing til Dusk!
You can support these fun Dancing til Dusk events:
To contribute to Dancing til Dusk, go to the Associated Recreation Council. They handle donations for Seattle Parks and Recreation, who produces DTD. You must select CCP-Downtown Park Support and then click on the "on behalf" button and enter DTD2017 in the text box.