July Bands
Tuesday, July 5th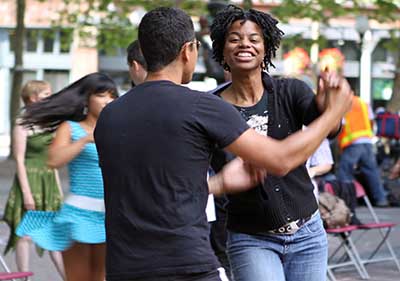 ---
Barrelhouse Jive Cats | '20s and '30s-era Swing
6–9:30pm in Occidental Park
The Barrelhouse Jive Cats started as a Seattle street band playing 1920's style jazz in the summer of 2015. It has gone through multiple incarnations since, as putting together a jazz combo is like herding cats, a very apt metaphor for the strong-willed and often eccentric personalities of those who commit their lives to the art of playing jazz.
Founder and saxophonist James Walls has been performing around the Seattle area since 1998, as well as other cities in the western US. He has played all styles of music with dozens of different groups. But traditional jazz and blues is where his passion lies. With such a deep love of jazz and traditional style swing in particular, James was inspired to start The Barrelhouse Jive Cats after observing that swing is a universally loved music. It infects the heart and soul, making people smile and move their feet! You don't need to know the songs, the melodies are instantly contagious. You don't need to know how to dance either, your feet and body will instinctively move to the beat, you can't help it! It's a happy and timeless music that has endured the ages as other styles have faded into the horizon. And people will be playing traditional swing centuries from now with as much passion as it was played in the 1920's and today. Barrelhouse Jive Cats
Beginning East Coast Swing lesson with Lilli Ann and Claire Carey / danceforjoy.biz
Lilli Ann Carey began partner dancing with Living Traditions/Northwest Dance Network in the 1990's, where the draw of instruction, music, dance and community made her a complete convert. She loves to dance almost anything, but focuses her teaching on Waltz, Swing variations, Zydeco, Polka, Foxtrot, One-Step/Blues, Fusion and a few vintage dance forms. Lilli Ann promotes dance through classes, workshops and events through her company, Dance for Joy! She also coordinates the highly successful Dancing 'til Dusk program for Seattle Parks and Recreation during the summer, which attracts hundreds of dancers (and soon to be dancers) each night. Lilli Ann has taught in Vancouver BC, Juneau, Alaska, D.C., Baltimore, Atlanta, in the Bay area and in Portland. Her creativity, love of the connected and playful dance and innovation has brought her recognition and an ongoing and excited student base.
Claire Carey started learning East Coast Swing at age 7, and quickly realized dance was a place she could be totally herself. Now 22, she can be seen out dancing West Coast Swing and Fusion most nights of the week. Claire also loves to dance Cross Step Waltz, Turning Waltz, Lindy Hop, Nightclub Two-Step, and Salsa. She is passionate about helping anyone who wants to learn and experience the joy of partner dance, whether from the middle in classes, at a turning point in private lessons, or from the sidelines of a dance. Although Claire is a technician through and through, she always brings her abundant joy and idiosyncratic nature into the room.
Tuesday, July 12th
Greg Ruby and the Scofflaw Quintet | Swing
6–9:30pm in Occidental Park
The Greg Ruby Quartet plays in the spirit of Django Reinhardt and Stephane Grappelli's Quintet du Hot Club de France. Formed in 2010 to record an album of all original compositions by Greg Ruby, the ensemble has performed at venues including the DjangoFest NW, the Western North Carolina Jazz Society, and the Icicle Creek Center for the Arts.
Seattle-based guitarist and composer Greg Ruby is a distinctive voice specializing in a range of jazz traditions, playing Hot Club, prohibition-era, New Orleans-style and European café jazz. Described as "truly hot jazz" by Vintage Guitar Magazine, his CD, Look Both Ways, celebrating the 100th birthday of guitarist Django Reinhardt and featuring 12 original compositions, reached #1 on the Roots Music Review jazz chart.
Greg leads The Greg Ruby Quartet, a Hot Club jazz group; collaborates with New York and New Orleans musicians on The Rhythm Runners, a prohibition-era jazz band; plays European cafe jazz with Bric-a-brac Musette Trio; and is a member of The Post Alley Ramblers, an old school New Orleans-style jazz quartet. A former member of Pearl Django, Greg toured throughout the United States, Canada and Europe and appeared at the prestigious Django Reinhardt Festival in France.
As founding member of Hot Club Sandwich, Greg can be heard on all the band's recordings and produced their 2010 release, And If Only, featuring legendary vocalist Dan Hicks. Greg's compositions have been heard on television and documentaries including NBC's Parks and Recreation. He's published the Pearl Django Play-Along Book Vol.1 through Djangobooks.com and is completing a play-along CD/book on the swing guitar mastery of Oscar Aleman. gregrubymusic.com
Beginning East Coast Swing lesson with Ari Levitt / Rolluptherug.com
Ari has been partnering, teaching, and performing dance in the Greater Seattle area, nationally, and internationally for over 25 years. An award-winning dancer, teacher, and performer, his breadth of styles include Lindy Hop, Swing, Balboa, Blues, Ballroom, One-Step, NC2S, WCS, Salsa, Tango, & Latin. He has been instrumental in creating several innovative new dance styles, including "Fusion Waltz," "Fusion Swing," & "Fusion Night Club 2-Step," which he has been busy introducing in workshops throughout the country. He is the co-founder and director of "Waltz Week in Vienna" and "New Zealand Dance Adventure."
Tuesday, July 19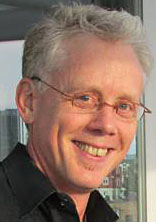 ---
---
A Hot Louisiana Night with Folichon and DJ Sean "Gatorboy" Donovan | Zydeco and Cajun
6–9:30pm in Westlake Park
Local Zydeco and Cajun Band Folichon will tag team in sets throughout the evening with DJ Gatorboy for that perfect mix of live entertainment and straight from Louisiana hits. Pull out your jeans and boots and come out for this Hot Louisiana night!
After years of jamming with the Seattle Cajun music aficionados, Tim Parker's first public performance was with a local band called "Mudbug." TEd Granger started in the jams also and — after going to his first Dewey Balfa Cajun and Creole Heritage Week in Louisiana in 2000 — began seriously learning some songs with Ron Stoner on accordion and Lucy Reuter on fiddle. That led to the formation of Jamais trop tard...with the addition of Karen Summers on triangle, Claudia Anastasio on Fiddle and Sandra Hankins on bass.
Tim and TEd and an assortment of fiddlers played a few gigs together until 2007, when were joined by Sandy and by Karen England and took the name "Folichon" which our research tells us means "fun" or "playful" or "amusing". Jim Newberry has become a regular on steel guitar with occasional forays into fiddle and accordion. Karen has been for 30+ years the fiddler for How's Bayou, and is, in TEd's nomenclature, "The Queen Champeen of Cajun Fiddlers." It's a huge honor for the rest of us to play in a band with someone at the very top of the genre.
So here we are, playing the music as authentically and intensely as we can, and liking what we see on the dance floor when we perform. The purpose of this music is dancing, so come on out and get moving! Folichon Cajun Band on Facebook
Beginning Cajun 2-step lesson by Sean Donovan | GatorBoyProductions.com
Sean Donovan combines passion for music and dance with his great love of teaching to provide joyful, exciting dance classes for all skill levels. Positive and playful, Sean is a creative and highly effective communicator, with intuitive movement awareness and a focus on the vital power of dance to delight and transform us. A professional instructor and DJ since 1999, Sean teaches partner dance nationally as well as year-round in Seattle, and has been on faculty with Northwest Dance Network, nwdance.net since 2004. In addition to Swing (his first love) and Zydeco (a profound connection prompting numerous expeditions to Louisiana and Texas), Sean revels in teaching Blues, Waltz, Whiskey River Jitterbug, Country Two-step, Cha Cha Cha and more. A professional DJ as well, Sean produces dances, provides music for special events and can be heard hosting live radio on KBCS 91.3 FM. Contact Sean about private or group lessons.
Thursday, July 21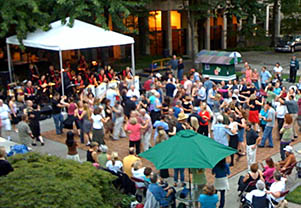 ---
Portage Bay Big Band | Big Band Swing
6–9:30pm in Freeway Park
Back for their 5th year, Portage Bay Big Band is one of the most consistent and popular Big Band Swing bands in the Northwest, back for their fourth year. They deliver a sound fully encompassing the hot vitality of the Swing years and really know how to show the Swing crowd a great time. portagebaybigband.com
Beginning East Coast Swing lesson with Lilli Ann and Claire Carey / danceforjoy.biz — See description under Barrelhouse Jive Cats, above.
Tuesday, July 26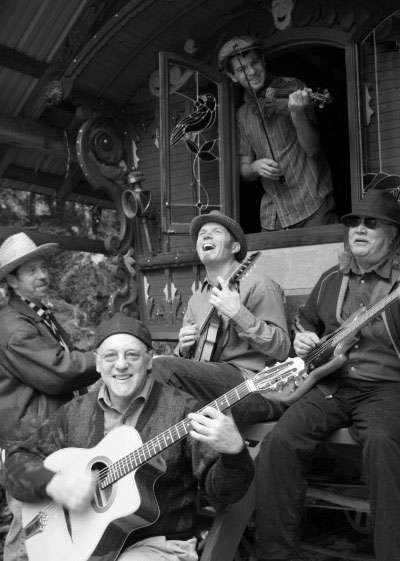 ---
Ranger and the 'Re-Arrangers' |
Gypsy Swing/Variety
6–9:30pm in Westlake Park
Seattle Gypsy Jazz band Ranger and the "Re-Arrangers" evoke the spirit of a Paris café and the raucous energy of a Gypsy campsite with their unique twist on gypsy jazz. "At the heart of their sound is Ranger Sciacca's sweet violin playin, his sense of melody and daring improvisations" (World Rhythm Webzine). The band's repertoire includes swing standards, traditional Gypsy melodies, the music of Django & Grappelli, and Ranger's unique originals.Ranger and his father Michael formed Ranger and the "Re-Arrangers" in 2006, after returning from the Django Reinhardt festival in Samois, France. In the years since, the band has released 3 CDs and played over 500 shows, including summer concerts, festivals, swing dances, art openings, and weddings. rangerswings.com
Beginning East Coast Swing lesson with Lilli Ann and Claire Carey / danceforjoy.biz — See description under Barrelhouse Jive Cats, above.
Thursday, July 28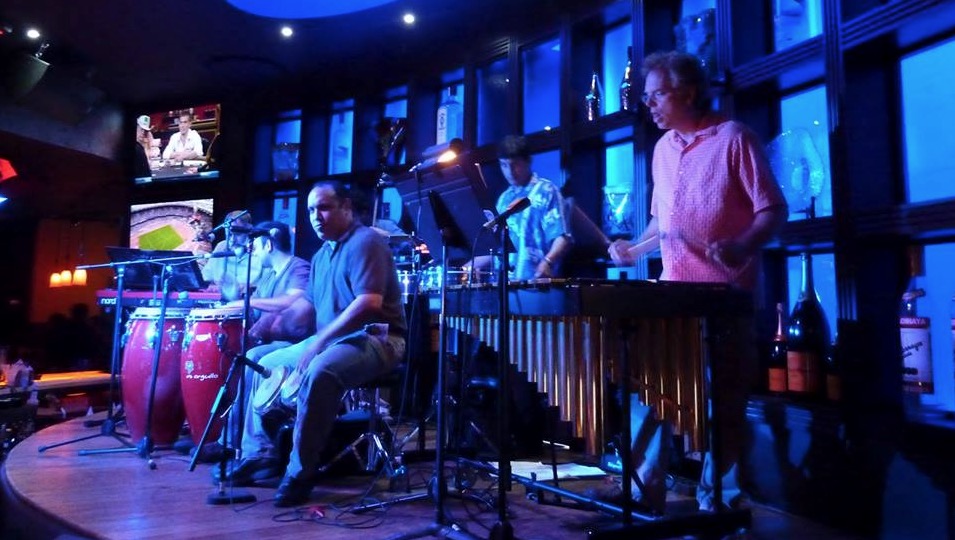 ---
Buena Vibra | Salsa
6–9:30pm in Freeway Park
Buena Vibra's mission is to recapture the glory days of the classic era of Salsa, Joe Cuba and Cheo Feliciano, Jimmy Sabater and the more modern sounds of Ruben Blades and Seis del Solar. The sextet is comprised of Fred Hoadley, piano and back up vocals; Jeff Norwood, Bass; Scott Ketron, Vibes and back up vocals; Sammy Alamillo, Timbales; Steve Guasch, Bongo and back up vocals; and Joe de Jesus on Conga and lead vocals. BuenaVibra is the newest addition to the Seattle salsa scene and promises to keep you dancing the night away. Buena Vibra Sextet on Facebook
Salsa lesson with Victor and Julia of Salsa in Seattle. See their instruction on Vimeo.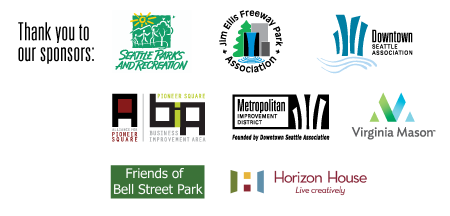 Organized by

Help support Dancing Til Dusk!
You can support these fun Dancing Til Dusk events:
Come to our Tuesday, August 30th Fundraiser and Waltz to KGB!
To contribute to Dancing Til Dusk, go to the Associated Recreation Council. They handle donations for Seattle Parks and Recreation, who produces DTD. Under "Donation Amount" you must select "Downtown Parks" and then under "Additional Details" enter DTD2016 in the text box.
Our Dancing Til Dusk  special donors
These folks donated more, in some cases a lot more, than the $15. Thank you from the bottom of our hearts and soles! You folks rock!
Robert Pretlow, Dave and Vicky Smith, Paul Griffin, Christine Sampson, Isabel Lin, Lauren Larkin, Craig Kreuger, Yana Vinko, Kenneth and Kim Schiewetz, Peter Shaw and Kathie Kelly, Ronald Cross, and MaryLou Harris.