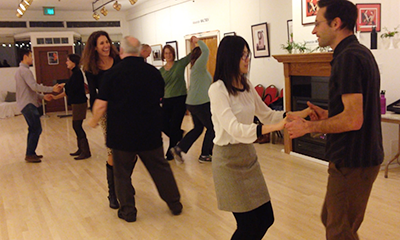 Dance for Joy! offers great dance instruction in a great environment!
We teach solid skills in Waltz, East-Coast Swing, Foxtrot, Blues and other dance styles that connect you to your partner and to the music while you're both having fun. You learn as you play!
From September through May 2018-2019, Lilli Ann and Claire are teaching Waltz in all its variations. From Cross-step through Rotary Waltz and the Mazurka, you'll learn new moves while working on advanced technique and styling, all with the personal attention you always get from Dance for Joy!
Fall-Spring Sessions
Wednesdays 8:15-9:30. Class begins promptly at 8:15.
Classes are at eXit SPACE—theNest, a beautiful sun-drenched studio at 6600 1st Ave NE, Seattle, WA 98115
Parking available across the street at PCC.
Lilli Ann and Claire Carey are returning to teach one of our passions, all kinds of Waltz. Waltz is a glorious dance with almost infinite variations and complexities with emotive music that fills the soul and drives a glorious partnered experience on the floor.
To have those exquisite moments requires knowledge and practice. In these sessions you'll learn moves, of course, and also how to create a beautiful experience through advanced technique and styling. It's been often said by others that no one does it better than Lilli Ann and Claire. Join us!
Session 1: Cross-step Sept 12th – Oct 17th
Session 2: Rotary Waltz — Nov 7th–Dec 12th
Session 3: Cross-step Waltz — Jan 16th–Feb 20th
Session 4: Shadow/Varsouvienne Feb 27– Apr 3rd
Session 5: Rotary/Mazurka Apr 17th – May 22nd
Classes are limited to 12 students and are role balanced. Drop ins are possible with notice. All classes will include a videoed wrap up and personal attention when needed.
Registration
If you would like to be reminded, send us an email and we will let you know when sign ups are available, so you don't miss a thing!
Class Locations
Greenlake
eXit SPACE—theNest, a beautiful sun-drenched studio at 6600 1st Ave NE, Seattle, WA 98115
Exit Space Dance (East Studio), 414 NE 72nd Street, Seattle
exitspacedance.com
Directions: N 50th Street Exit from I-5, north on East Greenlake Way N, West on NE 72nd St.
Park on street or in lots. Currently, parking on 5th Ave NE is still free all day. After 6pm, metered areas are free.
Swedish Club
1920 Dexter Ave N, Seattle, WA
Swedish Club
Parking: There's parking in their lot if you're early, or on the street.
Fremont
Salsa con Todo, 211 North 36th St, Seattle 98103 (At the Center of the Universe, Fremont)
salsacontodo.com
Directions:
Take 99 to the N 46th Street exit and go west (towards Ballard). Take a left on Fremont Anevue N. Go down the hill and take a left on 36th Street just before the Fremont Bridge. Salsa con Todo is on your left in the first block.
Private Lessons
If you need to get up-to-speed for that upcoming wedding or class reunion, quickly improve specific skills, or don't see the right class for you, private lessons are the answer! go to our Registration page, e-mail Lilli Ann, or call her at 206-264-5646 to find out more!
FAQs
New to dance or new to Dance for Joy? Not sure if this is for you? If you are a new student, you may try your first class session for 1/2 price, or 2 people for the price of one if you'd like to bring a friend. Or you may try the first night of the class only for just $5! See our Registration page.
Where are the classes? See locations at left for directions and parking.
What shoes and clothes do I wear? Clean, non-marking low heeled or flat soled shoes are best. All dance spaces have beautiful floors and we are committed to keeping them that way — please wipe off the bottom of your shoes before walking in. Wear clothes that you feel comfortable in — most people dress casually.
Missing classes? Going to miss a couple of classes due to vacation or work and know this before the class session begins? Class pro-rations are taken on a case-by-case basis. If you miss a class during the session, arrive a bit early the next week and we will catch you up. We also usually review the previous weeks material in the first part of class and review all material on the final day of class.
What are the advantages of registering early? For all classes, please register early — space is limited, and we seek to balance roles (relatively equal number of leads and follows) and will wait-list if necessary to maintain that balance.
Other questions? email lilli@att.net or call 206-264-5646